I'm not gonna lie, this past month has been a rollercoaster of emotions for me. But No matter what I go through, how bad of a day I have had, it always gets better by the end of the day. Whether it be my five year old sister painting my fingernails or forcing me to dance the Hyno, or having my sister and brother bursting into my room intently staring at me typing my boring diagnostic while attempting to sit on my lap, or playing 'dont fall off the tire into the moldy water' with some kids for entertainment when we had no lights (we used a tire outside as a trampoline and held hands to jump as high as we could without falling)...for the first time since I've been here, about a month and 2 weeks now, my host family is starting to feel like my real family (dont worry mom and dad, no mom or dad compares to you, haha, no offense). They care for me even in the littlest ways. When I told my family I was scared of the mummy sitting on my desk in my office that the people in my village found in the woods, they tried to help me come up with ways to ask to get it removed. The next day my brother sees me and comes running saying "do you still have a mummy??" And when I said no he announces it to the whole family and everyone applauses. They even planned a weekend for me to see where they grew up at. I always tell them how interested I am to see all the animals and way out there rural stuff, so they told me they were going to show me all they can in a day. Now some of my family is wanting to run with me in the mornings; my ten year old and 5 year old host cousins ran with me this morning at 6. We raced and I lost.
I think you really start realizing youre becoming family when you start getting in 'trouble' with them. I was out with a couple new friends I made. I was out later than usual (only a few houses away), and the next day I was told that my host dad was incredibly worried for me and was asking about me. The next day I had a talking about my safety and how I need to come home early next time. Also, one day I was super sick and was too weak to get out of my bed (no worries i can walk again), and my parents came into my room about 20 times that day. Ya, it was a little annoying but really sweet. They would come in and serve me tea, crackers, my dad bought alcohol because he thought it would help me, hahaha. My mom bought me some type of vicks vapor rub (can you believe they have that in a village?). ANd these people dont have much so to go out of their way to buy all these supplies for me helped. I dont think Ive ever seen them so worried before. They probably thought I was dying or something.
Ya, of course its hard and I still sometimes feel like i'm doing nothing, but I think I will always feel that way. I probably will always feel like an outsider to some extent, but I woke up the first time the other morning with complete peace. No worries thinking about how much I'm going to screw up today, how many awkward coversations I'm going to have, or how sick i'm going to get. I guess I'm learning to 'go with the flow.' ha.
In other news, I haven't told my sisters yet, so hope theyre reading this, but I think half the town wishes my sisters weren't married so they can marry them. In one of my classes I brought in pictures of my family and friends for a lesson, and both girls and guys asked first how old erin and rachel are, then they asked if they would ever come to Llama, then asked if they're single. I received quite a number of dissatisfied faces when I told them 'sorry they're happily married.' I'm pretty sure the girls were asking for their older brothers. They think theyre the prettiest things theyve ever seen.
The people here are starting to be very friendly towards me, and I've had a number tell me that I have improved greatly in my spanish and someone else told me 'i can actually understnd you this time." However, every time I meet a new person, they tell me 'no entiendo' or 'i dont understand you.' So really, I think theyre just used to my broken spanish. My host family is starting to translate for me. i was invited to a wedding, and the after party was all dancing. I had a persistent old man ask me to dance Marinara, the hardest dance ever in Llama, and when i said no, a bunch of the people clapped their hands and told me to try. out of peer pressure, i got up and attempted to dance, having NO idea what the heck i was doing. i found myself inventing my own steps because I didnt know any of them. the majority of the people in the room clapped their hands at me and all tried to teach me how to dance with him, haha. a little awkward. but i survived.
Healthwise, Ive been a little sick lately and have had to go to the city chiclayo a few times to get tested, hence the reason for my frequent use of internet access lately. Its a little frustrating because I feel like I could be doing a lot more if I was better. But the doctors are working on finding what the heck is wrong with me, so thats good. And one more thing--this whole time ive been having great moments but not a great time, because of a number of factors about my site. homesickness, isolation, etc. But, now its not just great moments anymore. Im actually beginning to really enjoy being in my site. The things that made me not like my site im starting to like. I cant believe this thought is coming to my mind, but im starting to like being really really isolated from all the other communities and volunteers and civilization! A friend told me the more isolated you are, the happier, and I never believed that. but im starting to now.being isolated helps me build deeper relationships with these people; its helping me learn more about their culture and just how they live.
Here are some more pictures of my village. Hopefully my next update, I'll have my projects to share!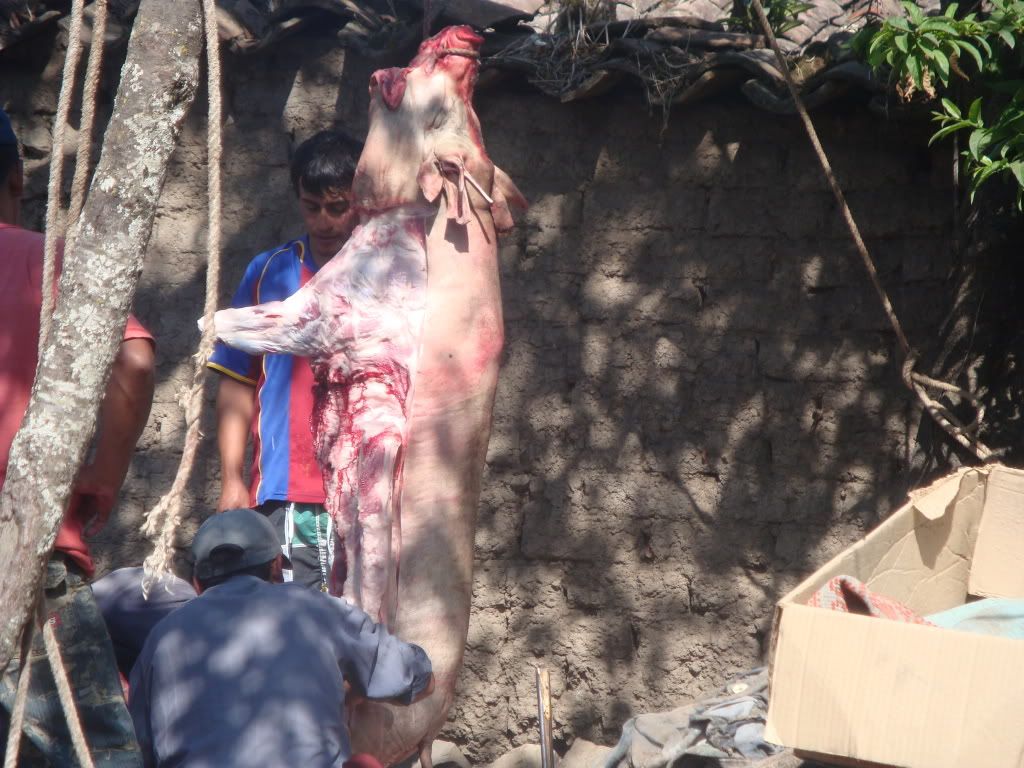 My surprise Breakfast, "chancho fiesta" or pig fiesta.they cut every part and eat it ALL-intestines, heart, etc..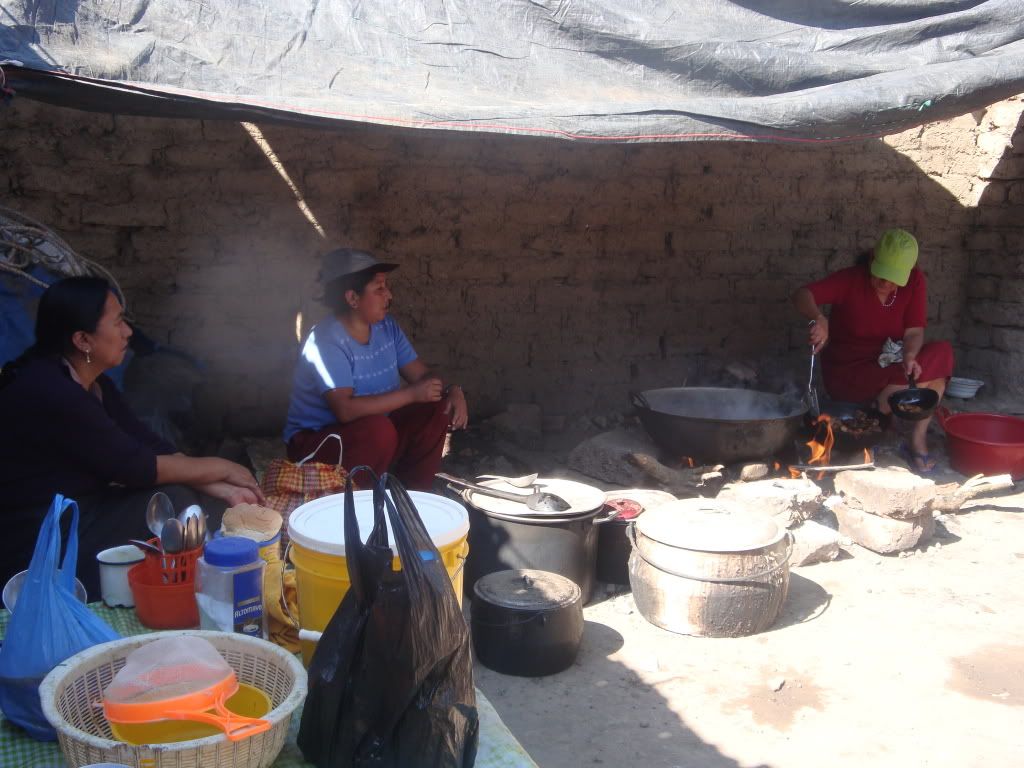 cooking the massive pig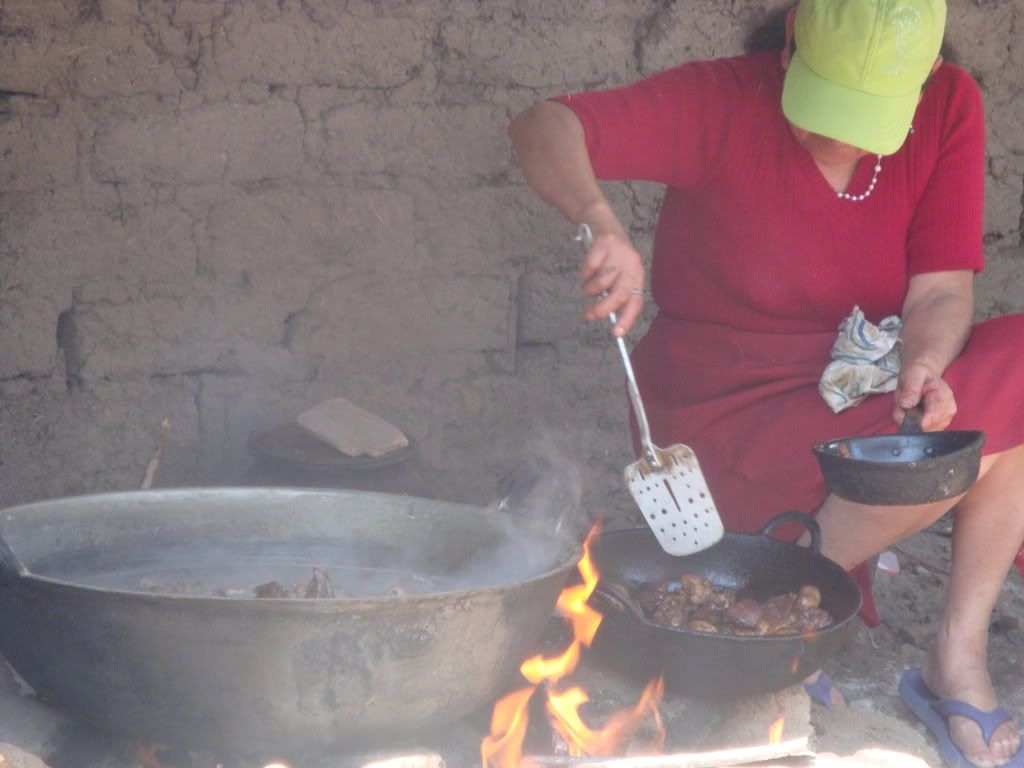 cooking again